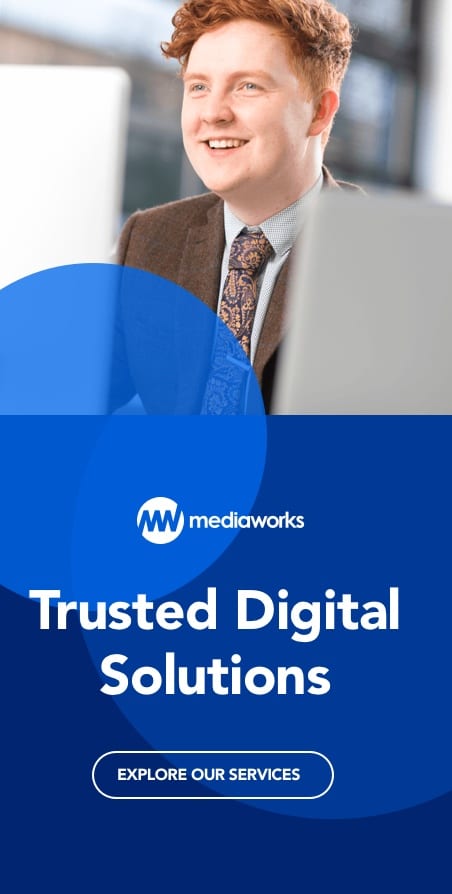 These are exciting times for the team at ROAR Digital Marketing. More clients, new branding, new website and new offices.
They've outgrown their current office space in Whitley Bay, so it's time to move to bigger premises. ROAR Digital Marketing is also raising the stakes in terms of their clients. They still work with major businesses like Royal Mail PFS (that's Royal Mail's Property & Facilities solutions arm which recently rebranded as RM Manufacturing), but they're also now attracting new clients from across the UK, not just here in the North East.

They recently signed-up London based AI and Analytics giant Intent HQ… an insight and analytics firm which allows consumer brands to gain actionable insight on their customers. Another client is reporting and XBRL software giant, Arkk Solutions, who're also based in London. They're a company who take the risk out of regulatory, tax and financial reporting for global businesses.

Here in the North East, ROAR is now working closely with Carrick Financial Management who rank as one of the region's largest locally owned Independent Financial Advisory firms. They also work with the Sunderland based tech skills screening giants, Tungl. Previously known as Technically Compatable, Tungl help businesses asses and identify elite talent pre-hire.

ROAR Digital Marketing is proving highly successful at what they do so, why the rebrand?

Here's their MD, Michael Knowles. "I started ROAR in 2016 and we've achieved terrific success, but we now have the expertise to attract major firms across the UK who are as ambitious as we are. We have a team of highly skilled specialists who can make a serious difference to the way businesses achieve results via marketing. I'm proud that we can also prove those results and show firms what sort of return they can expect. It's why I devised the name ROAR in the first place… Real Opportunity with Actual Results.

The rebrand is striking. The familiar lion's head is futuristic. The image is now surrounded by three lines and three circles which signify how the different areas of digital marketing are all linked together, as a wellrounded marketing strategy should.

ROAR specialise in PPC advertising (Pay-PerClick), SEO (Search Engine Optimisation), HubSpot management and Digital Journey Planning. These tools help businesses grow their online success, online sales, conversion rates and improve their general perception with the customer.

Michael is an experienced specialist in digital marketing. He's a Google coach and is a lecturer at Newcastle University where he lectures and trains students on Direct and Digital Marketing, and Integrated Digital Marketing Communications.

"One of the first messages I always get across, and which you can see in our new logo, is that digital marketing must not be viewed as a series of individual, very separate fields. All of those fields work together and rely upon one another to maximise their potential. Invariably, someone lands on a website after they've visited a search engine like Google. They type in a topic or ask a question, and Google then offers a selection of recommended websites based on that keyword. Search Engine Optimisation can help businesses ensure that their name appears on or near the top of the list by targeting those keywords. Pay-Per-Click is paid-for advertising which also aims to get your company name or product to the top of the Google opening page. The content of the website is also important because it will either continue to keep the customer engaged on the site or actually lead them onto other areas and touch points. Everything works together in a joined-up journey and, as long as the customer has an enjoyable and/or successful visit, there is a really good chance that they may return and actually convert as a customer. Here are ROAR we can help businesses achieve results via Google because we are a fully certified Google partner agency, something of which we are very proud. This means we work to Google's high standards and have demonstrated significant growth and success for our clients. We are also a recommended agency to use for PPC by Google Partners platform. We are one just a handful of agencies to hold this accreditation in the region."

The new ROAR Digital Marketing website gets that message across. ROAR is practicing what it preaches and actually shows potential customers how everything works. Crucially, everything is done in simple language. You're not blinded by science or baffled by jargon. ROAR's USP is simplicity and transparency, not only will they explain how you monitor their work and success, they actively educate their clients, to better undersrtand digital metrics and KPI's, as they believe this leads to better more longterm business relationships.

ROAR is now attracting high-end clients who can see the potential of their digital marketing techniques. ROAR has also expanded into offering digital marketing consultancy services and training as they recognise the skills gap we have in the region around digital. Witness the new offices and new website and it's plain to see that ROAR Digital Marketing is making a massive commitment to future growth.

If you have a business where you are either unsure about using digital marketing or are unhappy with the sort of results you've been achieving, the best idea is to have a chat with the team at ROAR Digital Marketing. They'll then look at your business and provide a fully detailed plan of what ROAR can offer.

It's a jungle out there; be the king of it with ROAR. Go on, make some noise with ROAR Digital Marketing.