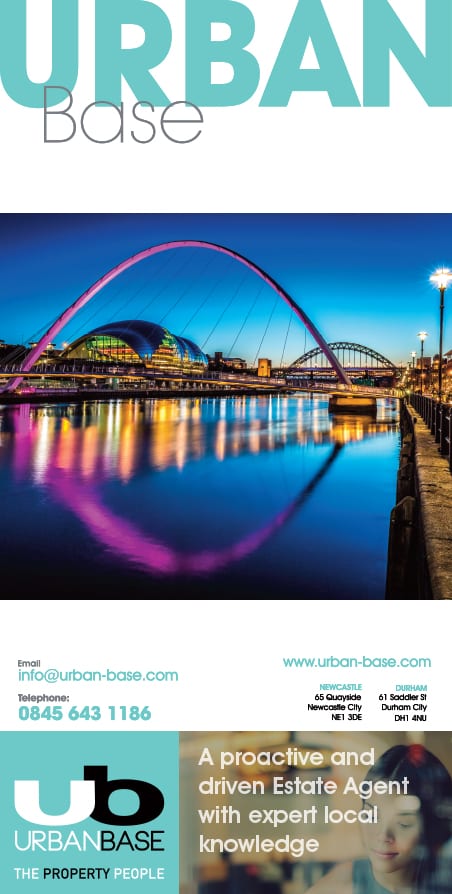 Here at Northern Insight, we know a few things about business and we've found a rising star in the business community of the North East.
They're called Bricks & Mortar and they have brought a completely new approach to property right here in the North East as 'The Digital Estate Agent on the High Street.'

As a revolutionary concept, we were intrigued to find out more so we called in to see their MD, Stuart Nickloes, at their offices on New Bridge Street to see what is behind Bricks & Mortar.

"After being involved with property for over fifteen years in both the North East and London, I have witnessed significant changes to the industry and yet I felt it could be better." Stuart commented.

"The emergence of the online estate agents such as Purple Bricks, Emoov and Yopa made their mark in the property world which did not go unnoticed, however, I have always felt something was missing from their approach – the values and customer service of a traditional estate agent."

The principles and traits behind Bricks & Mortar amalgamate the best of both worlds in property – The High Street Agent and the Online Agent. They're a hybrid agent with a face.

Stuart commented, "This is a unique concept in property here in the North East. You get all of the benefits of an online service with no frills and no fuss, but you also have the values you'd associate with traditional estate agency."

The online agents are cost-effective, straight to the point and there are some big players in the market but they lack the local knowledge, personable nature and customer service of the High Street agent. With Bricks & Mortar, we've created a 'new traditional' model where we have merged the benefitting factors of the online and High Street agents to provide a better experience with your property requirements."

The benefits of Bricks & Mortar's online system enables 24/7 access and status updates for tenants, landlords, buyers and sellers.

"Lack of communication can be frustrating for any client in connection with the letting or sale of a property especially when it can be the biggest asset you will ever own. Knowing it is in a safe pair of hands and being able to have all associated information accessible at just the click of a few buttons is what Bricks & Mortar put great emphasis on."

Although Bricks & Mortar itself is a new business model in Newcastle, its foundations have been around for a number of years. We asked Stuart about its history. "As an independent business with a team of highly experienced staff, the roots of Bricks & Mortar were established back in 2003 and we've always been a step ahead when it comes to property. After going from strength to strength, our business has grown into a reputable agent from our early days in student lettings. Our unanticipated success thrusted us to the forefront of the lettings market and in turn we became one of the market leaders."

They certainly aren't taking their foot off the pedal in striving for more in their market. With a variety of services on offer under one roof, they're not just limited to sales and lettings; they're Bricks & More. From Handyman Services providing small maintenance to large-scale refurbishments, short lets with hosting services to create unexpected, extra revenue for landlords and vendors, to their Home Staging service to give every property an edge over its competitors listed on the market. "Giving back to the community is something the team put value in," Stuart added. "With Bricks & More, we work alongside a number of independent businesses to offer our clients opportunities for discounts for a variety of offerings in our area."

With a New Year, it's a new time for Newcastle and its property market with the emergence of Bricks & Mortar.

They say they're 'The Digital Agent on the High Street.' We reckon they could be right up your street as well.