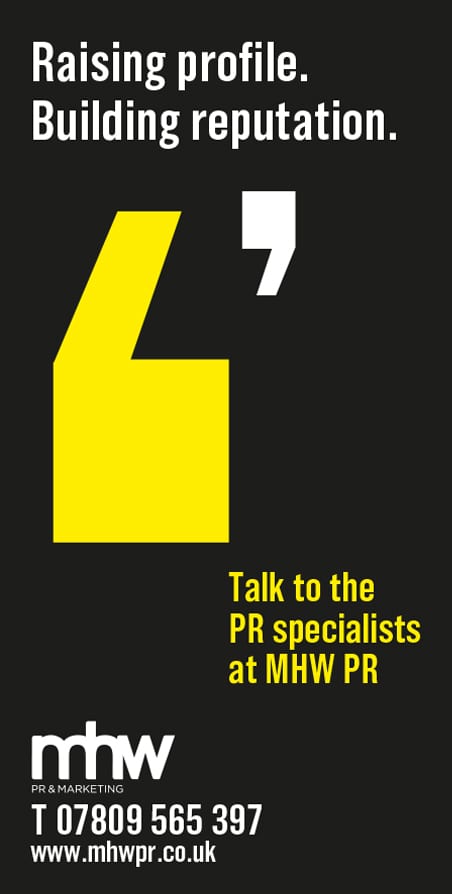 Steve Russell meets Peter Swift, co-director at Dunwoodie Architects, and the creative force behind Newcastle's iconic shipping-container leisure project, STACK.
With a stellar, thirty-year career under his belt, Peter Swift is as synonymous with Newcastle's architecture as the majestic Georgian buildings of Grey Street, appropriately enough, the place he called home for much of his working life. Born and raised in the west end of the city, his entry into the profession was by no means pre-ordained, but a seed of ambition was planted during childhood adventures on building sites: "My dad ran a joinery company and some of my earliest memories are of accompanying him when he went out to work. You'd never get away with it now, but looking back, I think that's probably what inspired me to become an architect".

The family moved to Ponteland in his adolescence, and helping his dad to build their new family home further fuelled his passion. Even so, it took time for his ambition to crystallise. A pupil at St. Cuthbert's Grammar School in Fenham, Peter's early academic interest was French, until he realised that Gallic literature didn't inspire much joie de vivre! He began to covet a career in architecture, and encouraged by his teachers, applied himself to his new-found ambition. He went on to secure a place at Dundee University, and after qualifying, started his career at The Alan J Smith Partnership followed by LJ Couves & Partners in Newcastle. Peter elaborates:

"Couves were a long-established firm in Newcastle, and I spent my formative years there, learning the trade. By 1998 I'd worked my way up to become an associate director, but unfortunately, the company folded in 1999. However, I was lucky enough to secure a senior position at Dewjoc soon afterwards".

Ostensibly, his relatively rapid rise to seniority was beneficial to his career, but being fast-tracked wasn't without its consequences:

"When AutoCAD came in the late 90s I missed out in some ways. Because I was earmarked for management roles quite early, I only had limited CAD training and I've just caught up on it in recent years".

CAD may not top his skills list, but his illustrious career suggests his résumé is anything but limited. How would he describe his strengths?

"People sometimes find this hard to understand, but the way I explain it is by saying that I am an architect, but then I'm not an architect! What I am is the director of an architectural practice, and there's a difference. I can, and I do design, but my real strength these days is going out, getting work, and delivering on it".

Deliver he certainly has, and his successes at Dewjoc – where he became a director – included the St. James' Gate complex and The Jury's Inn hotel, Quayside. Following Dewjoc's acquisition by an Irish project management company, Peter's role was diminished, and he departed, seeking more autonomy and fulfilment elsewhere. He established Swift Architects in 2011, which he initially operated from home. He continued to enjoy success, but being home based presented challenges within the industry. Thus, when he was approached by Dunwoodie Architects in 2013 to join as a consultant, he saw it as a good opportunity.

Specialising in healthcare projects, Dunwoodie emerged 30 years ago from the dissolution of the Northern Regional Health Authority. The company established a solid reputation, but Peter's experience facilitated a more ambitious agenda, while his consultant status allowed him to continue under his own banner simultaneously. The partnership had its ups and downs, including a brief split, but ultimately resulted in Peter taking over the business in 2017, along with his current co-director, Laura Ruxton. The business has flourished under their tenure, and Peter expands on their dynamic:

"Laura and I get on really well and our respective skillsets complement each other perfectly. Her background is in healthcare, and with my experience in large-scale commercial projects, we're able to build on Dunwoodie's excellent reputation within the healthcare sector, but also take on more expansive and innovative commercial work".

Now headquartered in Charlotte Square in Newcastle city centre, they've built an impressive body of work. On the healthcare side, they're currently delivering a new multi-storey car park for the RVI, and Laura recently provided consultancy to the Maltese government on a major healthcare project, drawing high praise for her input. That success has been mirrored by their commercial endeavours, not least by their most high-profile project to date, STACK. Peter explains how it came to fruition:

"I'd got to know the guys behind Danieli Holdings (whose portfolio includes Yolo, Yolo Townhouse & The Muddler) socially, and became friendly with their owner Neill Winch. We started discussing doing something together, and Neill was keen on a shipping-container project. We considered other locations, but settled on the old Odeon site and it went from there".

Financed by Danieli and delivered by Dunwoodies, STACK is now Newcastle's premier leisure destination. STACK's constantly evolving array of bars and retail outlets have connected with a generation of leisure-seekers looking for more than the traditional 'four walls and a pump' venue. It may seem like a relatively simple concept, but appearances can be deceptive:

"It may just look like a load of shipping containers, but it actually had some very complex design considerations. It's essentially new technology, so we had to do a lot of research on things like thermal insulation and fire protection".

Peter is justifiably proud of STACK, and its success has inspired Peter and Neill to plan a series of sister projects across the region. STACK Seaburn opens its doors in the summer, which is a step on with lessons learned from Newcastle and will feature venues offering electronic versions of crazy golf and darts, in addition to bars and retail units. There are two further STACK projects in the planning phase, while Dunwoodie's healthcare portfolio continues to expand.

Peter Swift's ambition is matched only by his work ethic, and our region is all the better for it!
For more information, visit dunwoodiearchitects.co.uk